I have been so so crazy busy with EVERYTHING! Momma got pneumonia, I'm a month away from graduating with a double major, and 30 days from being Sara B instead of Sara S. I realized its been 9 days since I've even checked my blogger! Yep I had a LOT of catchup to do... Good thing I have class time- cough cough-.
So so much has gotten done in the last couple weeks! Hallelujah! You all saw the favor bag that I got done... I did figure out what I'm going to put inside the bag... Its not exactly what I was thinking about but I actually like! After so much stress and pressure, I've just decided to lose my OCD tendencies and my perfectionist personality and go with the flow! It will be beautiful. As many brides have said there is a huge self-esteem issue and wedding craze issue when it comes to seeing everyone else's weddings and the perfection that the photos entail. I assume however (some of my assumption is actually factual since many brides have said the same thing), that many ladies realize that its not going to be perfect and that almost always does SOMETHING go wrong. Instead of getting distressed and stressed I'm going with the flow and already LOVING my decision. Ok so off of my rabbit trail... This is what is going inside of the bags:
"What a wonderous time is spring,
When all the tress are budding
The birds begin to sing, the flowers start their blooming;
That's how it is with God's love,
Once you've experienced it.
You want to sing, it's fresh like spring,
You want to pass it on.
" Kurt Kaiser
As well as a note of blessing, prayer and thanks to our guests...
At the reception, we're mixing different textures to produce a "delicious" feel. I searched the Web for inexpensive taper candles but was actually able to find them at a grocery store which likes to keep costs down... We ended up ordering about 160 different ones (Always good to have extras) for 120 dollars. Not bad at all.
We were able to find the groomsmen ties at JC Penny's... They are striped burgundy and black and little bits of gold.. Perfect! They were at buy one and get one half off.
I have mentioned that we're doing a dessert reception... And oh boy oh boy I can't wait... Sink your teeth into some of these photos!
From Here: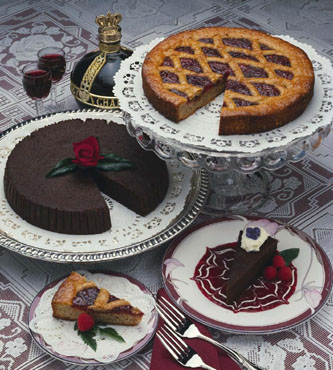 from here:
We're going to tier all of the desserts with fabric draping. Candles will be mixed in and so will some flowers (but minimal). Above all of it will be this lovely sign from
Martha Stewart
. Instead however, it will say: "Eat, Drink and Be Married". The B's from the favor bag actually came from there... A pretty inexpensive way to look very put together.
Until next time... any comments or suggestions!?!